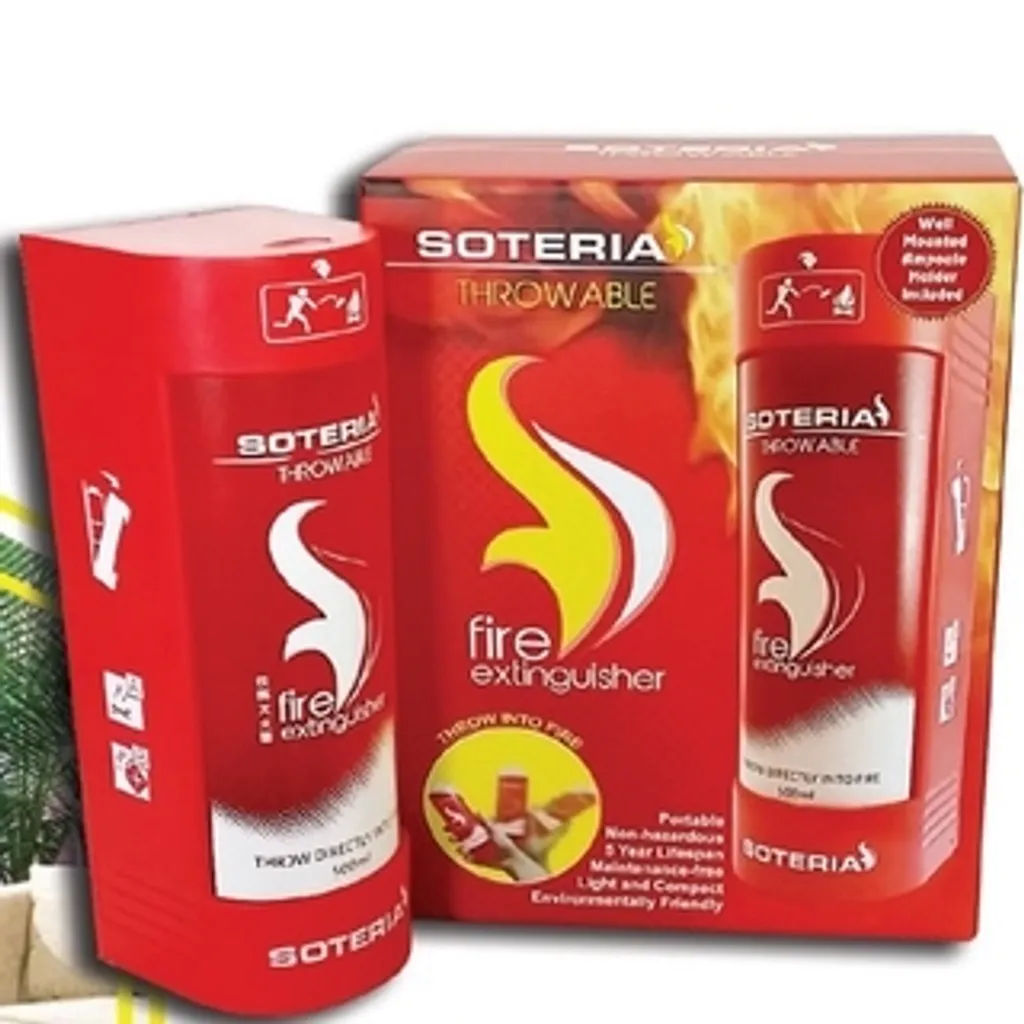 Soteria LHHI0173 Innovative Fire Safety Fire Extinguisher Throwable Type
Soteria LHHI0173 Innovative Fire Safety Fire Extinguisher Throwable Type
Soteria Throwable is a revolutionary new way to fight fires. When a fire occurs, simply throw the Soteria Throwable directly into the fire. Upon impact, the ampoule shatters, releasing its extinguishing solution into the surrounding area and putting out the fire within seconds. Soteria Throwable is light, compact and requires no prior training to use, making it the perfect fire extinguisher for everyone and anyone.
It is easy to use, Soteria Throwable is designed with simplicity in mind. Sudden fires can be difficult enough to handle without having to deal with the complicated mechanisms and bulkiness of conventional fire extinguishers. Soteria Throwable is the solution to fire fighting achieved in one simple step: Throw into the fire.
Soteria Throwable has a 5-year lifespan, providing you with half a decade of security.
In line with Soteria's mission of keeping things simple, Soteria Throwable requires no maintenance or upkeep. Simply place Soteria Throwable somewhere accessible and you'll have it ready when you need it. Unlike conventional fire extinguishers, Soteria Throwable does not need to be refilled, checked for pressure, or inspected annually.
Soteria Throwable provides you with a safe a secure home, but not at the expense of the environment. The chemical contents of each Soteria Throwable ampoule are classified as Readily Biodegradable according to OECD criteria.
Soteria Throwable is designed to react only with fire, and will not harm you or your loved ones if you come into contact with its chemical content. The Soteria Throwable extinguishing solution is classified as non-hazardous according to 1999/45/EC.
The product has been tested for safety and it is suitable for home, office and hotel.
Product Specification
Product feature: Easy to use, 5-year lifespan, maintenance-free, environmentally friendly and non-hazardous fire extinguisher throwable type
Origin brand: Soteria

---